Welcome!
We'd like to invite you to a pharmacy that prides itself on old fashion customer service, competitive prices, acceptance of most all insurance plans, and a wide array of goods and services, from prescriptions to cutting edge technology to refreshing ice cream at our old fashion soda fountain, and numerous services in between!
Need a refill? Send it online!
Sam Boyajian, Pharmacist/Owner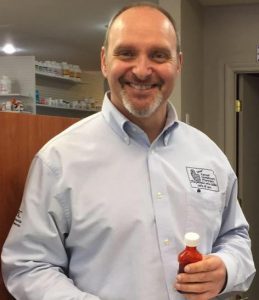 Our Pharmacy
We hope you'll come visit us soon!
Best Pharmacy Around
Rating: ★★★★★
Best pharmacy around. Sam and the other fine folks here are the best.
Always greeted with a smile.
Great customer service and cannot forget to mention
the awesome Soda Fountain!!!!
Kenny S.
Excellent Customer Service
Rating: ★★★★★
Excellent customer service and wonderful
soda fountain drinks!
Misty T.
Great, Friendly Service
Rating: ★★★★★
Great friendly service from a locally-owned pharmacy. Sam and Stacy
are huge community supporters. Make sure to check out the soda
fountain for an afternoon ice cream treat!
Jason C.
I have had such a great experience at The Gardner Pharmacy. Everyone who works there is very warm and helpful. The OTC medicines are priced right, the soda fountain drinks are made by hand according to our order (and they are very yummy), there are gift items that are unique and a digital photo machine to print out my photos. The atmosphere is relaxing and positive. A wonderful place to shop. 5 stars from our family!
Anonymous Customer